Lightning-Miko-Taoist (Krivis + Oracle)
Created by
Welkin
on Oct 10th 2016 (Last Updated: May 10th 2017).
This is a public build.
This build will excel at PvE DPS and support.
+Divine Might & Houki Broom combo for +2 Skill Level (Lv17 Zaibas is 21 hits x2)
+Easy Chappa Card Nuke combo: Stack Storm Calling, Zaibas, Cure, Hamaya, and Energy Wave, then proc SP Pot & Meltis
+ Oracle coming out of the closet! Counter Spell with make life easier for rank 8 zones. Main Quest against a certain Boss, District 8, 9, and any annoying magic you run into!
+ Counter Spell for anti-magic zone duration (remember to teach your party to sit still so you don't waste Counter Spell charges)
+ Forecast to see incoming attacks
+ Loot Manipulation
- Do watch out for Long CD on attack skills
Guide to become a miko:
Miko quest is just a patience test. #IMCheezed has horrible quest design... Let's spend 2.5hrs pressing space bar. (Bokor/Miko, Krivis/Miko, Diev/Miko).
Anyway, Miko quest consist of 2 parts:
Part 1 is to unlock the miko NPC by collecting 7 spirits (Patience Test/Major waste of time), completing this will make miko a selectable option in advancement
Part 2 is the actual Miko advancement quest... (remember to select miko on advancement before it will show up). You are forced to go on a pilgrimage to visit all the "bonus" dungeons that are no longer relevant to the game... And it is so gimped that it doesn't even give you a return teleport upon completion.
https://docs.google.com/document/d/1Hrx9E0qXMEMaVxLpPk1lAwXJC0Wc20pkAANFwfmeKLM/preview#heading=h.jue3kb3qdt4k
Miko Master is located in Passage of the Recluse (South from Stele Road Lv.96), once you have her unlocked.
Miko Skill & Talent Selection Rant
- Hamaya is really really good, especially for int cleric. Think Zaibas with no hit count limit, but with more dmg since it is a rank 6 skill, and it stacks with DM + Broom. Solo meth grind: Use it on group of plants, and then kite the other stuff into it...
- Kagura dance is a 5 pts or nothing skill.
- Clap still only work for diev statues, not magic circle... so you can omit this skill for now and put it in kaugra dance, or simply save the 5 pts for later.
- Broom works with certain skills only, does not work with buff shops, etc. For certain skills, it seems to buff their level but it is not reflected in the UI in your skill list. #IMCed
- You can invest the additional skill points in Broom to increase the duration of the ground effect.
- Gohei stick's dmg is good for us because it is a holy magical attack. It is very spammable with 4 charges and low CD. Just make sure you don't hit mobs with jackpot buff on them! I would keep it at 1 point to make it spamming friendly. It is the perfect filler attack in between Hamaya and Zaibas CD.
- Remember to use gohei when tree has shield up (Sial mission).
Miko Skills Overview
Hamaya
is our only attack skill. It works just like another Zaibas, but with no hit limit!
https://www.youtube.com/watch?v=Ua-pXTsUH04
-Medium size AoE circle (Approx. 2x2 tile AoE circle) @ 3 Hits per second
-Max 10 targets with No hit limit (unlike Zaibas/Cure/Carnivory).
-Duration of 5 sec. plus (3* skill level seconds) (20 sec @ Lv5, 26 sec @ Lv7)
-SP cost: 54, plus 7 per skill level. CD: 35s
Kagura Dance
allows your allies to do holy damage with their attacks (melee only!). This is a channel spell, but we do have a long spell CD to make use of it. Per greyhiem: Kagura dance adds +10% holy dmg to allies/+10% melee dmg via debuff per skill level. Duration is 5s base + 5s per skill level, with a SP drain of 3% SP per sec. Lv. 5 = 50%/30s, Lv. 7 = 70%/40s.
- For practical purposes, either put 5 pts here (support) or none at all (DPS with Miko)...
Kagura Dance Video (Glitch):
https://www.youtube.com/watch?v=X__NsY8U7IU
It looks pretty, and great when you have melee dps... but it is also situational since it does nothing for your archer/wiz. And as with all channel speeds, damage, knockback, etc. would interrupt it... The big SP drain also competes with your damage spells/mess up Card proc timing. Put only 1 pt here if you want it for show, or 5 pts if you want to be more support-oriented (you might also want to switch oracle for Kabbie, so you can use ein-sof to replenish SP).
Houki Broom
: Ground-based Magic Circle Divine Might Buff
-You will mop the ground for up to 5 sec. to create the magic circle. This sorts of work like a channel... you would drop a magic circle wherever you walk that gives the skill +1 buff.
-Magic circle buff duration 5 sec., plus (skill level) seconds
-This is Second row buff (does not consume buffslot)
-SP cost: 56, plus 8 per skill level. CD: 35s
-User Greyheim posted this video:
https://www.youtube.com/watch?v=lYkkHBaY5vc
Clap
: Increases magic circle duration. Currently bugged/only work with Diev skills.
Gohei
: Can debuff enemies or cleanse allies. See image posted by Greyheim on ktos thread: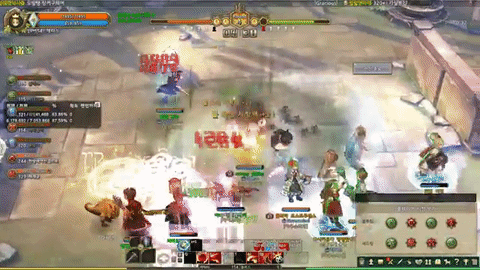 It will work on boss monster with those annoying shield buff (e.g. tree in mission).
Warning/Bug/IMC Feature: Don't use in PvE if you see monster with Jackpot buff... it will remove it.
Guide to become a miko:
https://docs.google.com/document/d/1Hrx9E0qXMEMaVxLpPk1lAwXJC0Wc20pkAANFwfmeKLM/preview#heading=h.jue3kb3qdt4k
Given the difficult/time consuming aspect of the quest, you may want to consider getting Oracle at Rank 6, and work on the miko quest as you level.
Support Miko clearing 290 dng with Lv.324 Fencer:
https://www.youtube.com/watch?v=Do5UBa-4VbQ
Stat Build - INT and CON only
Due to how the game reward stat stacking (with bonus stat), it is a good idea to split your stat as little as possible so you can maximize your stat bonus. At the same time, a dead dps does no damage, so being able to survive is equally important. How much CON you need will depend on your Max HP...
* If you use 3 pieces of plate armor and invest in the Plate Armor Attribute (cleric trainer), that will give you about 1700 HP.
* Using equipment with CON or HP, such as Petamion, Abom Set, various armor/shield
* Gems (Red for Top & Bottom, Yellow for Boots). And yes, you can stack these (but not monster skill gem).
* Hair costume with HP
* Equipment awakening with HP bonus.
* Blud Cards gives HP, but are not yet available on iTOS
* Given the difficulty of rank 8 contents and the lack of easily accessible gear post-280, you may want to invest more heavily into CON post-lv220 to prepare for rank 8 contents. Afterall, MATK can be more easily augmented via upgrading the Superior Corona Rod or any good caster rod you find.
* If you use the Animus necklace, it would let you convert HP regen into magic AMP (@40%), so your CON investment would not simply be for HP, but both HP and Magic Amp.
* Likewise if you are using the Otrava Shield, as block benefits from CON.
Card
Card: 10* Chapparition card
Alternative to Oracle at Rank 7
- Kabbie for R7 & Ein Sof to enhance survivalbility, especially if going for high/full CON builds
- Priest for RES, although I prefer people to not die in the first place
- While one rank of PD gives you more attack, you are limited in the Debuff department to apply incinerate reliably. Recommend you grab a rank of Bokor for Hexing if you are going that route (Hexing > Pandemic > Fade to optimal position > Incinerate).
http://www.tosbase.com/tools/skill-simulator/build/r4wjx07c23/
Rank 1

Cleric

Heal

Heal: Enhance
Type: Passive
* Increases the damage and heal factor of [Heal] by 0.5% per attribute level
* +10% added bonus at maximum level

Cleric 1st Circle required

Heal: Creating Extra
Type: Active
* Adds a 2% chance per attribute level of being automatically healed when using [Heal]
* Increases SP consumption by 20%

Cleric 1st Circle required

Heal: Remove Damage
Type: Active
* [Heal] will not inflict damage nor react to enemies
* Increases SP consumption by 10%

Cleric 1st Circle required

Heal: Open Sanctuary
Type: Active
* Extends the effects of [Heal] to neutral characters.

Cleric 1st Circle required

Heal: Exclude Summons
Type: Active
* Keeps [Heal] effects from applying to summons.

Cleric 1st Circle required

Heal: Linger
Type: Active
* Applies a buff that continuously restores the HP of allies healed with Heal or Mass Heal
* The buff lasts 10 sec and restores HP in a value equal to [attribute level x 5]% of your Healing stat
* Increases SP consumption by 30%

Cleric 3rd Circle required

Heal

[Magic] - [Holy]

Creates a magic circle in front of you, healing allies or damaging enemies. Does not affect airborne enemies. Amount of HP recovered depends on the target's maximum HP. Recovery increases with the casting character's INT and SPR.

Level 5:

Attack 228%

Heal factor 228%

Magic circle duration 40 sec

No. of heal circles 5

SP:

38

Type:

Magic / Buff

Cooldown:

22s

Element:

Cure

Cure: Enhance
Type: Passive
* Increases the damage dealt on an enemy with [Cure] by 0.5% per attribute level
* +10% added damage at maximum level

Cleric 1st Circle required

Cure: Damage Interval
Type: Active
* Decreases the interval of [Cure]'s magic circle by 0.2 seconds
* Increases SP consumption by 20%

Cleric 2nd Circle required

Cure

[Magic] - [Holy]

Creates a magic circle that removes a Lv1 status ailment from allies or inflicts damage to enemies. Does not affect airborne enemies.

Level 5:

0.4 second attack 103%

No. of Hits: 18

Magic Circle Duration: 10 seconds

SP:

42

Type:

Magic / Buff

Cooldown:

27s

Element:

Safety Zone

Safety Zone: Increased Range
Type: Active
* Increases range applied by [Safety Zone] to 15
* Increases SP consumption by 80%

Cleric 1st Circle required

Safety Zone: Block Count
Type: Active
* Increases block count of [Safety Zone] by 1 per attribute level
* Increases SP consumption by 10%

Cleric 2nd Circle required

Safety Zone

Creates a magic circle that blocks incoming attacks.

Level 4:

Blocks: 8 times

Magic Circle Duration: 20 seconds

SP:

40

Type:

Magic / Buff

Cooldown:

48s

Element:

Rank 2

Cleric

Rank 3

Krivis

Daino

Daino: Duration
Type: Active
* Increases the duration of [Daino]'s effect by 4 seconds per attribute level
* Increases SP consumption by 20%

Krivis 1st Circle required

Daino: Additional Attack
Type: Active
* Increases attack speed by 10 per skill level while [Daino] is active
Adds an additional attack to basic attacks while active
* Increases SP consumption by 50%

Krivis 3rd Circle required

Daino

Change your basic attack to a magic attack.

Level 1:

Duration: 22 seconds

SP:

24

Type:

Magic / Buff

Cooldown:

60s

Element:

Zaibas

Zaibas: Enhance
Type: Passive
* Increases the damage dealt on an enemy with [Zaibas] by 0.5% per attribute level
* +10% added damage at maximum level

Krivis 1st Circle required

Zaibas: Splash
Type: Active
* [Zaibas] deals damage to multiple enemies
* Max. targets: 7
* Total count is maintained
* Increases SP consumption by 30%

Krivis 2nd Circle required

Zaibas

[Magic] - [Lightning]

Creates a magic circle that calls down bolts of lightning on an enemy using the God of Thunder's power.

Level 5:

0.3 second attack 82%

No. of Hits: 9

Magic Circle Duration: 30 seconds

SP:

66

Type:

Magic / Attack

Cooldown:

20s

Element:

Rank 4

Krivis

Rank 5

Krivis

Rank 6

Miko

Rank 7

Oracle

Rank 8

Taoist