Language:
The Wood Bible - Dievorcist
Created by
Soratori
on Dec 26th 2016 (Last Updated: Jul 21st 2018).
This is a public build.
É gente, caixão e vela preta. Plague pve is dead.
Eu até consegui facilmente ignorar a presença de Zealot em relação a damage superior, mas ignorar o rework do druid e a chegada do Exorcist infelizmente não dá. Adeus, Plague. Você agora só como pvp [E acredite ali ele ainda tem e muito potencial].
Tanto em AoE como em questão de hit count e dps, o Exorcist atrai justamente por que o ponto-base do que procuro num char pra ele ser divertido é ainda melhor executado: Um híbrido entre dano e support que pode se encaixar em qualquer situação sem ser um pato.
PODER DO EXORCISMO! SAI DEMONHO!
.: Sumário :.
I - Onde a classe brilha
II - Contras
III - Outras opções de classe
IV - Conclusão
__________________________________________________________
I - Onde a classe brilha:
Yes, bitches. Book shinning beam.
__________________________________________________________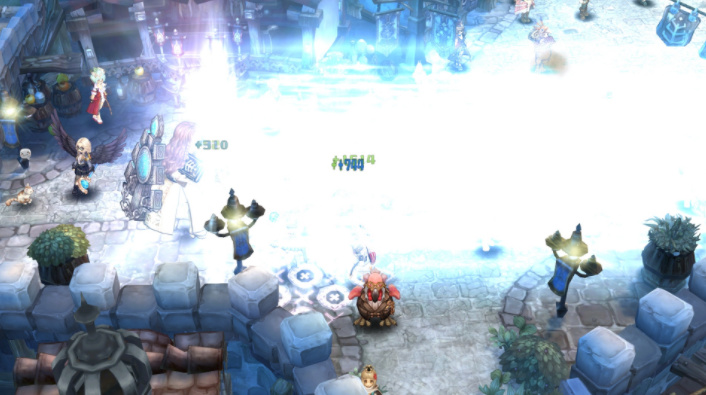 Mas deixando o baile seguir, Exorcist entra como trunfo de dps aqui por dois motivos ridiculos:

1 - Aqua Benedicta: Porque diabos deram uma Hamaya com praticamente o dobro do dano e de 3 overheats pro Exorcist? Que OP. Não suficiente, até o cooldown é menor. Isso é muita coisa.

2 - Bookbeam, quer dizer, Rubric.
Vamos a seguinte problemática: Uma sKill tem apenas 15 segundos de CD e possui 6 de animação + cast.

Isso te dá apenas 9 segundos de hiato entre reusos da skill. Parece bokor com CD baixo, né? A diferença é que essa skill limpa o que tá na sua frente.
Ela é muito OP. Praticamente voce vai usar isso pra dar dano, o resto é capricho. Tudo o que voce combar com o Exorcist vai ficar bom. Mesmo que seja classes support antes.

Esses dois motivos, tanto por AoE, como dano, como custo-benefício, tornam o Exorcist uma classe extremamente ofensiva.
E o melhor é - conseguir ser um bom healer, dar support, e ainda conseguir exponencializar esse dano SE estiver jogando em situações paradas, como challange mode e earth tower [principais conteudos de end somado a raid + velcoffer] com o stack de carve owls, já velho conhecido de vcs.

Laima desce ainda mais o CD, tornando Rubric reusável de 12 em 12 segundos. 6 animação, 6 cooldown.

O.P.

Ok, Soratori, mas e o que isso muda em build além de classe?
Certo, pensando bem a respeito eu imaginei que SPR pode ser um bom status tanto por escalonamento do diev quanto por sp e também porque voce não precisa dessa INT pra fazer o Exorcist brilhar. Além de tudo, não foi só o Exorcist que mudou aqui.

O Cleric também.

[Cof cof healing power cof cof]

Com a Patron saint + spr, sua heal vai ser interessante. Lembra do objetivo da build? Se divertir com uma postura híbrida que atinge a todos sem ser pato? Então.

Cleric c3 entra na build. Peguem as passivas de heal e usem blunt pra curar melhor.

Ok, Soratori, mas e se eu tiver sem dano?
Isso depende da sua arma e gears. Exorcist é a prova de flop em relação a DPS. Se voce é novato ou ainda não se equipou, pode ser interessante usar o full INT mesmo até conseguir. Depois cê reseta os status e é isso.

Primus Raffye blunt, bons gears obedecendo aquela mesma progressão de sempre. Tudo segue feliz, sem nenhuma modificação realmente abrupta além de que Agny não é mais interessante pra gente.



__________________________________________________________
II - Contras :
Non ecziste.
__________________________________________________________


É sério. Tem contra não. Sem mana hungry, sem CD alto. Bom dano. To só esperando o nerf.

Pra não falar que não tinha NADA NADA, antes dela chegar aqui aparentemente o cast podia ser interrompido, assim como possession. Mas não é mais o caso. Chegou lapidado como diamante.



__________________________________________________________
III - Outras opções de classe:
Pra vc usar Bookbeam do seu jeitinho.
__________________________________________________________


Agora a parte boa. Soratori monta uma build base e enche vcs de opções e dúvidas pra no final dizer: Choices.
Mas aí que é bom, não? Cada um montar a build do seu jeito tendo em mente o que funciona e o que não.
Glória, glória aleluia!





1 - O Druid:




Atualmente o perfil mais ofensivo são esses 2 ciclos de druid combados com exorcist. Druid reworkado é druid renovado, druid viscoço. Tá com muito dano. Range e rotação de dps com novas skills interessante. E a Chortosmata tá curando bom. Aquele regen ali não é de se ignorar não.

Druid 2 Exo 2 é meta, minha gente. Tá dando mto dano juntos. É o complemento perfeito pra build. A ponto de o que vem abaixo disso nos primeiros ranks nem precisar de dano.

Mas se voce quer mesmo assim completar a build com mais dano em rank abaixo do druid...

1.1 - Focando dano, voce tem Bokor. Lembre-se que o r3-5 [bokor] pode ser trocado por Krivis. Eu pessoalmente indico. Mas é que o Bokor tá sendo muito mais utilizado até o momento. Mas realmente prefiro Krivis. Melstis pode aumentar a duração do Transform do Druid e pessoalmente o trabalho que vc tem pra organizar os Zumbis não compensa numa build em que Rubric vai te gastar metade do seu tempo.

1.2 - Por ultimo, até mesmo um visual mais híbrido com cleric 3 priest 2 druid 2 pode funcionar pra fechar com o seu exorcist. Essa primeira classe pós cleric é realmente bem versátil.



2 - O priest c4 aka Chaplain:



Ainda mais support, ainda mais temático. Eu não tiraria Cleric c3 pra por Miko, mas quem leva lore a sério não perde muito por isso. Voce terá dano AoE com o Exorcist e em alvo único com o Chaplain. Ainda mais aconselhável ser full SPR nesse caso. Ridiculamente independente e ainda sim coberto de support. Essa é pra quem quer um híbrido e não gosta de diev [herege].



3 - O Sadhu:



Esse perfil é uma versão alternativa pra quem não gosta de Druid e ainda sim quer ter o perfil mais ofensivo possível. Levando em conta que Sadhu é um ponto alto de ranks mais baixo em DPS e que apenas um ciclo de monk ou paladin são suficientes pra segurar 2Hand Blunt, temos:

Como contra, essa build não tem o Druid, que é um trunfo atual em sinergia com DPS. Pense com carinho.

E é isso gente, Choices.
Eu falei que ia dizer, não falei? Eu falei.



__________________________________________________________
IV - Conclusão
Vamos ao veredito
__________________________________________________________



"Soratori, tá, mas eu gostava da build anterior, e agora?"
Agora clica aqui amg: http://www.tosbase.com/tools/skill-simulator/build/mid9ku5vpg/

Eu ainda mantive essa build porque ela é divertida, mas não é a melhor. Pessoalmente, manter plague doctor em pve agora não é mais tão viável quando se tem Rubric c2. E voce ainda ganha um rank pra gastar sem ter que dar 1 k de SP a cada pandemic.

E é isso.


In nomine patris, et filii, et spiritus sancti. Amen.
Rank 1

Cleric

Rank 2

Cleric

Rank 3

Cleric

Rank 4

Dievdirbys

Rank 5

Dievdirbys

Rank 6

Dievdirbys

Rank 7

Miko

Rank 8

Exorcist

Rank 9

Exorcist