Language:
(Shield)Wall Crusher by BJD - Complete Guide
Created by
Suzushii
on Jul 2nd 2016 (Last Updated: Jan 28th 2018).
This is a public build.
Ok, time to write it as it should be. If you are at an early stage of the game and want to build that has a future and can match it to yourself then you've come to the right place, my dear Shieldmaiden.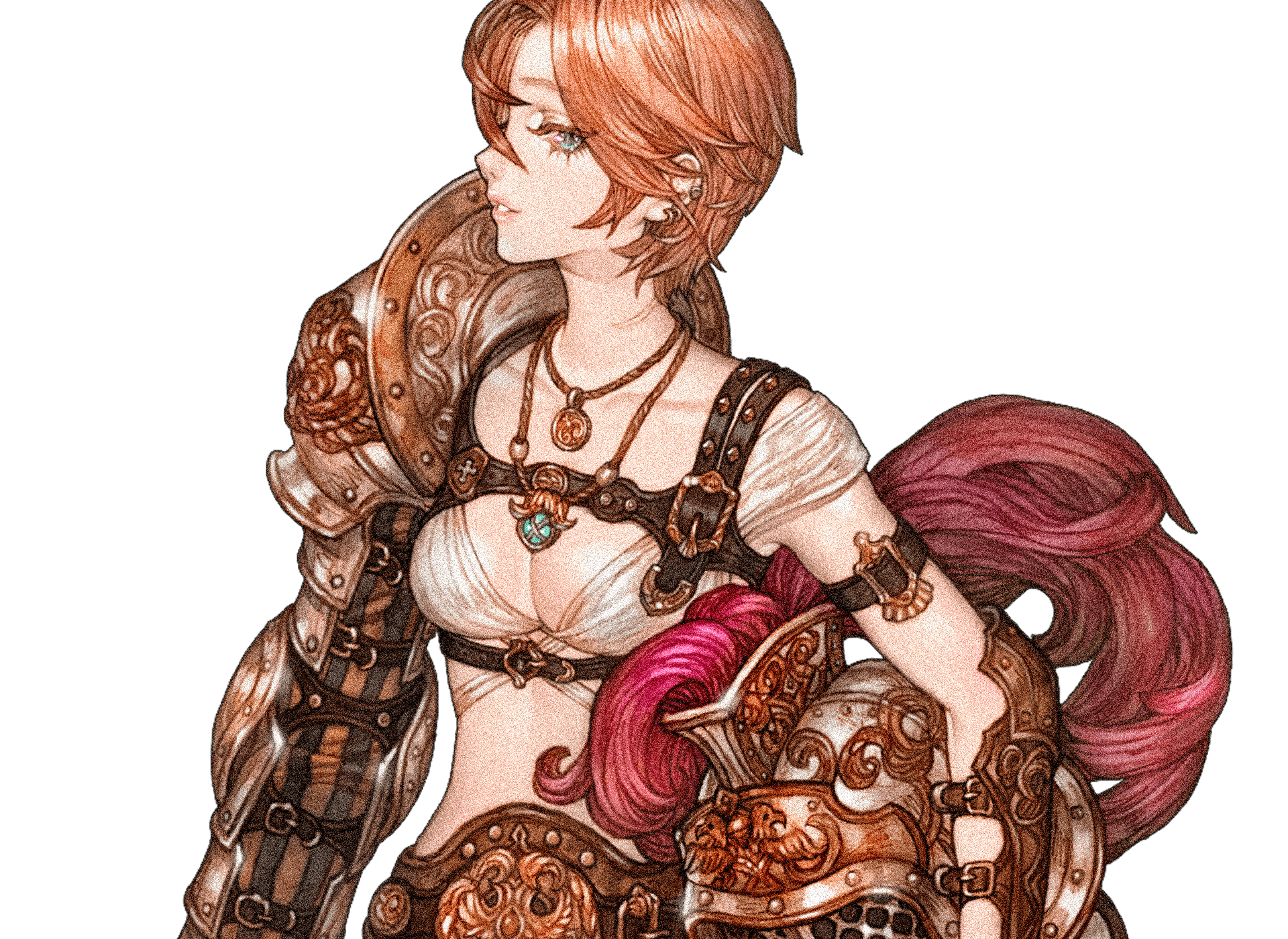 Murmillo Guide for beginners
Explanation
Before we start. One thing needs to be explained. Use the shield! To defend, to attack, to a knockdown, to push back... And even to serve tea! Just don't make it complicated and don't force yourself to re-roll your character.
- Why
Swordsman C1
?
You are a tank. You don't need more than C1 because basic class don't offer anything special. So maximizes buffs from here, and go for some nice shield.
Hung Ho
+
Concentrate
allow you to leveling because this increase your damage. Monsters are weak up to 170 levels. Especially when you're running all the time in plate armor.
Pain Barrier
an obvious obviousness. Bosses in this game is a nightmare. Knockdown and knockdown and being struck. This allow you to avoid the frustration and the most important moments simply perform. The longer you're immune to knockdown the better! Right?
- Why
Peltasta C2?
Because you use a shield! Peltasta give you "tank" status and allows you to pull mobs to you and increases your survival ability. In a nutshell.
Guardian
[6/10]
+
High Guard
[3/5]
- basically allows you to be the wall. This is huge bonus when talking about physical damage. And another attribute
Guardian: Evasion
increases your evasion +18%.
Short corrections for these skills. Guardian (pDef +19% & pDmg -6%) High Guard (Block +170 & Attack -7%)
Swash Buckling
[10/10]
- Lure 20 opponents. And thanks to
Swash Buckling: Maximum HP
you have +25% HP bonus when this skill is active. More HP is always a good thing!
Umbo Blow
[10/10]
- The best skill from Peltasta. Damage is fine, you can also knock down the opponent... or rather make him fly. On the other hand if he don't want to fly, you can always stun him. Versatile and effective.
Rim Blow
[1/10]
- This one is... just is. You can use this to break an opponent's attack pushed him away. No knockdown or stun. In addition, only one hit when the previous skill have more than 1.
Avoid
Shield Lob
? Because this skill allows you to throw shield into your opponent. And after that you have to run and pick up shield. I do not recommend.
- Why
Rodelero C3
?
Because this class allow you to kill anything and was the most annoying player in the game. Mainly in TBL or GvG. In addition, the ability from the last circle, powerfully improve your attacks what is needed above the 280 level.
Shield Charge
&
Slithering
[1/10]
- To be able to do something that you first need to approach this! The first skill during your march allow you to knocks opponents and increases chance to block the missile attacks directed towards you. When second skill is the best thing ever from Rodelero class. Increases chances to evade and block enemy attacks and resistance against status ailments. So you can just move forward like a fearless warrior in your favorite story about knights. Attribute
Slithering: Additional Damage
additionally all strike attacks for 10 seconds inflict additional 100% more damage!
Montano
[1/15]
- Slash type hit. This is just another CC in your sleeve. Chance of paralysis and slow the enemy. Nothing more.
Targe Smash
[13/15]
- 1 hit strike type damage and 3 overheat. The second best skill for hitting enemies with your shield. For this large quantity of attributes make definitely worth it to use it as often as possible.
Shield Shoving
[13/15]
- Another strike type damage to deal damage. Something you need to be able to kill them right? In addition, this is another CC so worth it.
Shield Bash
[10/10]
- This skill is useful mainly for PvP. Lowers opponent statistics and of course inflicts a lot of damage. It should be usefull but on PvE this debuff is almost negligible.
Shooting Star
[5/5]
- The best skill from Rodelero class. 4 hit strike type damage and 2 overheat. One of the reasons why you need to have Rodelero C3.
High Kick
[1/5]
- Second reason why you pick Rodelero C3. 2 hit strike type damage and additionally enemies will temporarily take additional damage from any strike type damage.
Why skip
Shield Push
? Weak damage. And debuff Defense: -225 is not a big value Once above the 280 level opponents are more than 1,200 pDef.
- Why
Murmillo C1
?
Because this is wht are you came here you encased head! Ok ok, my fault. Murmillo is a class having two important tasks. Increase your attack and defense. How? Just look...
Cassis Crista
[1/1]
- The first thing you should have. Second is millions of silver to spent for attributes.
Enhanced Peltasta Shield Attack
-
While equipped with Cassis Crista, Peltastas' Rim Blow, Umbo Blow, Shield Lob Umbo Thrust skill attack damage increases by 40% per attribute level.
Enhanced Rodelero Shield Attack
-
While equipped with Cassis Crista, Rodelero's skill damage for Shield Charge, Targe Smash, Shield Push, Shield Shove and Shield Bash increases by 20% per attribute level.
Repeated Hits Attack Boost
-
While equipped with Cassis Crista, skill attack damage for Peltasta's Butterfly and Rodelero's Shooting Star increases by 15% per attribute level.
Frenzied Slash
[1/5]
- Jump and stun. This is useful to control the area.
Evade Thrust
[3/5]
- 1 hit pierce type skill. Increases your dodge chance when you attack, quite useful. Low cooldown 18 seconds only and after hit enemy will bleed if you have attribute for this skill.
Headbutt
[5/5]
- 1 hit strike type skill with ability to stun an opponent. Worthy at the moment because inflicts a huge damage. And with the new attribute opponent for 10 seconds and receives 50% additional damage from any strike type attacks.
Scutum Hit
[5/5]
- 1 hit strike type skill and 3 overheat! This actually is main damage factor from Murmillo and... Just look!
- Why
Templar?
Time for a brief explanation. This place has this class just because you would realize that here you can put
almost anything
. So if you want to become a Templar and set up a guild to recapture Jerusalem, then go ahead! Here is a list of things you can do.
Peltasta
- You can but you don't must. You will only lose chance to gain something better. But if you want it then go ahead. Keep in mind to spend only one point in Guardian. These additional 5 points you need here.
Squire
- Do you want to repair the equipment? Strengthen weapon before the fight? Stop Boss for a moment what allow your friends to beat him properly? Become familiar with this class then.
Corsair
- See how works
Jolly Roger
. This is really good skill when you grind with friends or do some missions or dungeons.
Iron Hook
(does not work on Bosses) works well against players. If you want to do something in PvP and at the same time be more helpful in party, you should pick this class.
Doppelsoeldner
- This may not be the best thing you have to choose... But
Deeds of Valor
and
Earn Double Pay
is the main reason why you may be interested in this class.
Templar
-
DEUS VULT!
Because why not? If you want to set up a guild with friends then go ahead.
Or... If you want a really strong kick to your damage, there is something which you may be interest.
Shinobi
Actually, I think this is the best option here. Only one problem here is the fact that the entire Quest for Shinobi is a way through the circles of hell.
Here is how to be Dante and experience your own Divina Commedia
. If you're wondering if it's worthy...
If you are wondering how into Shinobi. Here you are.
Attributes
Get ready for Bank robbery! The amount of silver needed here is a mountain! Or take Jerusalem to be able to pay.
Swordsman
Plate Mastery: Defense - 50 lvl
Provoke - 10 lvl
Weapon Swap - 1 lvl
Increased Maximum Buff Count - 1lvl
Bash: Knockdown - 1 lvl
Concentrate: Enhance - 50 lvl
Gung Ho: Enhance - 50 lvl
Peltasta
Guardian: Evasion - 3 lvl
Swash Buckling: Maximum HP - 5 lvl
Guard: Defense - 5 lvl
Shield Guard - 1 lvl
Shield Mastery: Block - 5 lvl
Umbo Blow: Stun - 5 lvl
Umbo Blow: Add Knockdown - 3 lvl
High Guard: Increased Defense - 50 lvl
High Guard: Umbo Blow Speciality - 5 lvl
Umbo Blow: Enhance - 100 lvl
Rodelero
Montano: Size Slow - 3 lvl
Shield Push: Duration - 5 lvl
Slithering: Additional Damage - 5 lvl
Targe Smash: Burn - 3 lvl
Targe Smash: Frozen Stone - 5 lvl
Targe Smash: Remove Knockback - 1 lvl
Targe Smash: Enhance - 100 lvl
Shooting Star: Enhance - 100 lvl
Shield Shoving: Enhance - 100 lvl
Shield Bash: Enhance - 100 lvl
Murmillo
Murmillo: Enhanced Manica - 10 lvl
Evade Thrust: Bleed - 5 lvl
Headbutt: Additional Damage - 5 lvl
Scutum Hit: Stun - 3 lvl
Enhanced Peltasta Shield Attack - 10 lvl
Enhanced Rodelero Shield Attack - 10 lvl
Repeated Hits Attack Boost - 10 lvl
Scutum Hit: Enhance - 50+ lvl
Headbutt: Enhance - 50+ lvl
And don't forget about attributes for your Rank 7 class!
Statistics
CON and DEX is the best solution. STR can be too a little but I don't think it necessary. Only because Swordsman have great scale up for this stat and some ability scale with STR. Or if you spent already less than 50 points for this stat you can align it thanks to boss cards. But a lot of STR you have from items so don't worry and put like this.
As a result, you should have more than 40k HP which helps a lot when we are beaten by a horde of monsters or burnt alive by magic. We don't die in less than a few seconds at least. The proportions should be 1:2 CON:DEX. Second statistic gives us a lot of benefits like Evasion and Crit Chance. And if you decide to be Shinobi it's the best what we can do.
Equipment
It makes no sense to talk about the absolute endgame. Sooner you kill yourself than you get items from ET40 so I will be more realistic.
Keep in mind that equipment here is very important. Especially when it comes to defense against magic. High chance of critical strike? Forgive me but better skip this, because you'll die before you kill anything. Besides, you are not Fencer C3 to focus on the statistics so. You are a defender and you have a different goal.
I separate the two types of equipment. So that it is easier to create your character. Equipment before and after the 280 level. Of course if we talking about armor type - Plate Armor of course!
Before 280 level
Necklace -
Max Petamion
2x Bracelet -
Rhevisan Bracelet
Top -
Grynas Armor
Gloves -
Oghma Gauntlets
Bottom -
Grynas Leggings
Boots -
Superior Kovos Greaves
Sword -
Drake Tail
This isn't a mistake, I really recomend here mace.
Shield -
Didel Tower Shield
On 330 level
Necklace -
Dhrag Necklace
2x Bracelet -
Dhrag Bracelet
Top -
Newt Plate Armor
Gloves -
Swift Oghma Gauntlets
Bottom -
Newt Plate Leggings
Boots -
Shade Greaves
Sword -
Pierene Sword
or
Abdochar
Shield -
Lionhead Shield
or
Emengard Shield
Alternative items for Shield and Sword is very hard to get and much more expensive in craft. If you don't have a chance to progress Fantasy Library better take a cheaper option.
Note on
accessories
because it's possible to have some bonus from here. First, focus on HP bonus and pDmg. Third stat isn't necessary. There are sometimes extremely rare bonus (like AoE Attack Ratio) but don't force yourself to look for it.
Gems
- Here we can get something really nice. If you are patient enough, you can even try to raise gems level to 10. But even 7 is already a very big bonus. And here I recomend future version of gems. kToS upgrade red/blue/yellow gems so now better invest in this way.
Top
-
Red Gems
Bottom
-
Red Gems
Gloves
-
Yellow Gems
Boots
-
Blue Gems
Weapon
-
Red Gems
Off hand
-
Green Gems
Cards
- Ok, now a little more about Card system. Now each card we can use in our Card slot and this is great mechanic after all. Remember that each new rank gives us additional space for cards.
There isn't many cards good for Murmillo so i put all which in my opinion are good or just useful.
- Five or Six10 lvl
Ellaganos Cards
*This will allow you to spent 50 points in STR if you already spent some points in STR.
- One 10 lvl
Dullahan Card
- One or more 10 lvl
Nuaele Card
*Actually this give % bonus.
- One or more 10 lvl
Golem Card
- One or more 1 lvl
Centaurus Card
*Use it only to get an odd value AoE Attack Ratio. Despite the fact that the boss exist in the game, chance to get this card is almost impossible.
The number of cards it really is your will. I'm here suggested only option if you have a problem with decision.
Rank 9 or later? To Rank 9 certainly you are still Murmillo. But maybe on Rank 10 we got something interesting. If IMC planning only 10 ranks. There is a chance that they will give something interesting for many combinations, or even more than two classes. I look forward to rework the Centurion. Why I think this will appear? Centurion is a commander so this is perfect class for Templars, because they got last circle on Rank 9. And if last circle for Murmillo will be hopeless maybe we can get something interesting here.
So let's keep our fingers crossed and have hope.
Rank 1

Swordsman

Rank 2

Peltasta

Rank 3

Peltasta

Rank 4

Rodelero

Rank 5

Rodelero

Rank 6

Rodelero

Rank 7

Templar

Rank 8

Murmillo

Rank 9

Murmillo