Language:
Sheo's Sadruid
Created by
Sheogaraph
on Feb 17th 2017 (Last Updated: Oct 2nd 2017).
This is a public build.
Contents
1. Introduction
---How Sadhu OoB works
---Why choose Sadhu?
2. Stats
3. Skill Points
4. Skill Rotation
5. Attributes
6. Equipment
---Armor
---Necklace
---Bracelets
---Mainhand
---Offhand
---Cards
[Outdated]
---Gems
---Head Enchants
7. Other Sadruid Options
8. Other Builds by Sheogaraph
INTRODUCTION
UPDATE: THE ZAIBAS BUG HAS BEEN FIXED! It will now always strike opponents who walk into it 100% of the time. However, the damage is still underwhelming unless you invest a lot into the enhancement attribute, and even then, it's still not as great as it used to be before the "big patch". I would recommend that you go Cleric 2 Diev 1 or Cleric 3 instead, unless you're hopeful that Zaibas will be buffed in the future. I have provided those builds at the bottom.)

NOTICE: I would also like to inform you that I will not be updating this guide very much anymore, as I have lost interest in ToS. The card section is outdated and you should no longer follow it. Perhaps in the future I may come back to ToS, but I'm currently burned out from it. I will try to revisit this guide every now and then to answer your questions though. Sorry for any late replies.
Hello, my team name is SheosPotatoes, and you can find me on the Klaipeda server. Feel free to contact me in-game and send me a friend request and/or ask me questions there if you'd like. I'm happy to answer any questions you have here or in-game :)
This is a PvE-focused boss-killing build that focuses on combining the Lycanthropy's physical attacks with the Sadhu's Out of Body: Enemy Defense Weakened attribute to increase Lycan damage. This build's focus is on maintaining high, consistent DPS rather than short burst damage, and is also incredibly fun and interesting to play. My friend
Red Mage Joe
came up with the basic build concept for me at first, though I made a few modifications to it that I thought would improve its performance. This build has high boss-killing power and great defensive options at rank 8 in the form of max Sterea Trofh, a low-level Safety Zone and high evasion, which is all more than enough to keep you alive against a boss. You also have plenty of AoE in the form of Carnivory, Zaibas, and Possession to help yourself out when soloing. During rank 7, I had almost always placed 1st - 3rd place on DPS in dungeons. Ever since I've gotten Lycanthropy form, however, I've very frequently topped DPS; even against world bosses such as Dullahan.
[NOTE: With the new combat system changes that recently came, this build has MUCH more DPS potential than it previously had, such as INT having an even greater impact on magic damage, a lightning-based version of Agny Necklace that may come soon, and many other changes. Here's a link to the news if you haven't seen it already:
Plans for Combat System Changes
.]
[ADDITIONAL NOTE: DEX does NOT increase OoB auto attack speed; however, OoB AA damage is indirectly buffed by the increase in magic attack that we get from each point of INT. Sadhu has also be gotten many more buffs since the patch, such as Possession and ABE (Astral Body Explosion) doing MUCH more damage, as well as a DoT (damage over time) debuff added on top of ABE, and the size of Possession's AoE circle being greatly enlarged.]
How the Sadhu OoB works (for those who don't already know)
- The Sadhu's soul cannot be attacked or targeted.
- The soul's movement speed is insanely fast (exact movement speed number unknown).
- The OoB attacks do magic damage and apply the Psychokinesis element (AKA the "Soul" element if you are a Sadhu, though they are the same thing), which does +25% damage to Holy and Devil-type monsters, and cannot be resisted.
- The OoB damage is based off of your Magic Attack x1.5.
- When you attack with OoB, you'll see 3 separate damage counters, but it's only a division of your main damage. For example, if you have 600 Magic Attack, your attack should be dealing 600*1.5 = 900 total damage, where each counter would show 300 damage.
- OoB has no SP cost or cooldown.
- Receiving damage while OoB will not cancel the skill (like it used to). Only receiving knockback/knockdown will cancel it.
- While OoB, your physical defense is reduced to 0, but with the Out of Body: Evasion attribute, your evasion will increase by +50 points when OoB.
- Using OoB auto attacks will not break Fade. However, if you damage an enemy with any other skill, such as Heal, Cure or Zaibas, your body will be revealed.
- The Blessing buff will NOT increase your soul's damage; only your other skills.
- The Sacrament buff will increase the total OoB damage by the amount of Holy damage the buff gives you. However, it will NOT add an extra attack (for example, if the buff gives you +12 holy damage, your OoB attack will do a total of 12 more damage after being divided between the damage counters, but you will not see a 4th damage counter). The same applies to any other additional Elemental Property Attack bonuses.
- Unlike the Elemental Property Attack bonuses from other pieces of equipment and buffs, the Elemental Properties from daggers will add the elemental damage to EACH of the OoB damage counters, rather than being divided between them (for example, Arde Dagger gives 153 Fire Property Attack, so 153*3 = 459 total additional damage for your OoB auto attack). These are currently the only types of equipment that multiply their damage with OoB, rather than being divided.
- You can attack with your offhand while OoB, though there is no reason to.
- You can also sit while OoB, gaining the HP and SP regen buffs.
So why Sadhu C2 instead of Bokor C2 or Krivis C3?
I didn't choose Bokor because Bokor doesn't really synergize too well with Druid 3, as Bokor is more bursty-type damage, whereas Druid 3 is a more steady type of DPS. You can't cast Effigy and attack with Lycanthropy at the same time. OoB, however, synergizes GREATLY with Lycanthropy, as you can use both at the same time, and with the Out of Body: Enemy Defense Weakened attribute maxed, the OoB attacks have a 50% chance per hit to decrease the enemy's defense by 10% for 5 seconds, allowing your Lycan to deal more damage with its physical attacks (which scale with both your physical and magic attack stats). So as long as you continue to attack with OoB at the same time, you should be able to keep the defense debuff up at a constant rate. The Lycan form is also immune to all knockback effects, making it a great partner for Sadhu so that your OoB is not interrupted. I didn't choose Krivis 3 because, honestly, leveling using only Cure and Zaibas is God awful to play through, and incredibly boring to me. You would basically just cast your 2 Zaibases, spend 30 seconds running around until it pops again, then rinse and repeat. FOR FIVE. WHOLE. RANKS. Plus, Zaibas would be your only option for killing flying enemies. What kind of masochist would want to endure such a tedious thing?
That leaves us with the option of Sadhu, a class that both synergizes with Druid 3, AND is more fun to level! Sadhu adds many more damage options for you to use while you level. You have your Cure, Zaibas, OoB attacks, and Possession for flying enemies (yes, Cure now damages flying enemies), and all those plus Carnivory for grounded enemies (there's also Heal tiles ofc, but I always have the damage for that turned off because I prefer to save them only for healing). You'll practically never run out of killing options, and you will almost always have at least one skill off CD for you to use. You can't do DPS if all of your skills are on cooldown, now can you? I have managed to out-DPS other Krivis 3 > Druid 2 builds during rank 7 in dungeons multiple times before, both pre-patch and post-patch.
Stat Point Distribution
Invested CON - 40.
Invested SPR - 40.
Invest rest in INT.
Now that skills require much more SP, and Lycanthropy now consumes a flat rate of 70 SP per second, SPR is now a required stat for this build. 40 points in SPR gives us enough SP so that we don't have to rely too heavily in spending lots of silver chugging down SP pots constantly. You'll still have to drink Lvl 15 Condensed SP pots eventually, just as before, and every once in a while you may also have to drink a different SP pot bought from an NPC (since different SP pots now have separate CDs), but not so often that it will start to drain your silver.
We need less CON than before because mobs generally do less damage now, although physical attacks still do a considerable amount of damage to us, so we still need a decent amount of CON.
You still don't need any DEX because DEX does not affect the attack speed of OoB, or any of the Lycan attacks, since they are considered skills and not auto attacks. Investing in DEX for evasion isn't a good idea either, because you only get 1 point of evasion for every 2 points in DEX you have. You also don't need to invest in DEX for crit attack because you already get plenty of that from your gear. One point of DEX gives you 4 crit attack, and you get 10 additional crit attack for every 10 DEX you have. However, I still think that investing in INT is better, as INT will affect both your Lycanthropy damage AND your magic skills. Plus, you also have Zalciai to give yourself crit attack.
Skill Point Explanation and Progression
Cleric 1
: You don't need any points in Deprotection Zone thanks to the Out of Body: Enemy Defense Weakened attribute. You have a 50% chance per hit to decrease the enemy's defense by 10%, so there's no reason at all to get DPZ. Those points would be better used in Cure, since that is part of your damage rotation, especially in earlier ranks. We don't have the Safety Zone attribute, so SZ needs to be maxed as well. Maxing Heal is a given because even though this is a max attack build, you will still be the obligated healer if you end up being the only Cleric in a dungeon, plus it also of course helps with soloing.
Cleric 2 isn't chosen because, while it can be argued that a stronger SZ and Fade would increase your invulnerability time while OoB, which is completely true, this is a pure DPS build, so we're going with Krivis 2 instead for a stronger Zaibas. A level 10 Zaibas does considerably more damage than level 5, and you need it to hit harder when fighting flying mobs in the later ranks. A level 5 Zaibas may not be enough damage to suffice in endgame, even with the enhance attribute, and does not have the Zaibas splash attribute that Krivis 2 has, which is crucial for killing multiple mobs quickly. Besides, the lack of long-lasting invulnerability will change once you get Sterea Trofh, and if all else fails, you can always just Prakriti out of harm's way anyways.
Krivis 1
: The first thing you want to focus on is maxing out Zaibas, as this will be your only source of real damage until you reach Sadhu. You don't really need any points in Daino at C1 just yet, since you aren't likely to go over the buff limit in dungeon parties at this level. We're instead saving those points for maxing out Zaibas as soon as we hit C2. Whether you put points into Aukuras or Zalciai at C1 or not doesn't really matter, because neither are that useful until you max out their attributes anyways (although Aukuras will be very useful to yourself in the future as a Sadhu, since it decreases the enemy's accuracy). That's completely up to you, as long as you don't put more than 3 points in either one.
Krivis 2
: The first thing you want to do is max out Zaibas with your leftover points. After that, you can put 3 points in Aukuras and Zalciai for the attributes if you haven't already, and 5 points into Divine Stigma, which will help boost you and your party's DPS if you can pull it off. The rest of your points can go into Daino. Having 9 points in Daino instead of 10 doesn't really matter, because I have a hard time imagining any situation where you would ever have THAT many buffs in one party. 5-6 points in Daino is plenty I imagine, but where else are you going to put those other 3-4 points? You have Aukuras, but that isn't extremely useful. Zalciai is slightly more useful than Aukuras, but we wont really get too many additional crit points out of Zalciai from skill points since we have little invested SPR; most of it comes from the enhancement attribute. What you choose to put those 3-4 extra points in is up to you, but I personally think Daino is your safest bet in the long run. After all, more buffs could be added in rank 9+.
Sadhu 1
: Finally, we can get out of that 30 sec Zaibas CD hell hole. Put your first point into OoB, and your next point into Prakriti. After that, whether you put more points into OoB or Astral Body Explosion first is up to you. Putting more points into OoB does not increase its damage, only the range at which the soul can travel from the body. We're not putting any points into Vashita Siddhi just yet because we're saving those 4 points for maxing out Possession in the next rank.
Sadhu 2
: First, max out that Possession. Afterwards, whether you max out OoB or ABE next first is up to you, it doesn't matter. Just max them both out, and put the remaining 4 points into Vashita Siddhi. Vashita may not be too incredibly useful on its own, but it does have a nice 50% chance per tick to cause confusion for 5 seconds with the Vashita Siddhi: Confusion attribute maxed, which can be used for crowd control in PvE (Confusion has no effect in PvP). It can be a helpful ability to use when your party is being overwhelmed by mobs and needs some breathing room.
Druid 1
: Put your first point into Carnivory and then a point into Cortasmata. After that, max out Carnivory first, then Cortas. Don't bother with Shape Shifting just yet, because it's completely useless until you get Transform at C2. You can put 1 point into Telepath now for the PvP utility if you want, otherwise it's not very useful for PvE, as mobs cannot be attacked while telepathed (players also cannot be attacked while Telepathed; it's just a CC).
Druid 2
: You can either max out Carnivory again or Sterea Trofh first, depending on whether you want more damage or better body protection first. I myself maxed out Sterea first. There is absolutely NO reason at all to put any more than 5 points into Cortasmata, because there is an attribute that will increase its duration to match Carnivory and Sterea's durations anyways, and you can't have more than one Cortasmata out at a time.
Anyways, after those two, you want to put a point into Shape shift and then max out Transform. You can use the transformation's abilities as well as your own while shapeshifted.
Druid 3
(WEREWOLVES!!): Put a point into Lycanthropy and then a point into Hengestone, then continue to put 3 more points into Lycanthropy. Afterwards, put an extra point into Hengestone (or 2 more if you decided not to get Telepath) and max out Carnivory and Sterea Trofh. Put 2 more points into Transform to have a constant uptime of your transformation. The Lycan's attacks deal physical damage, but scales off of both your physical and magic attack stat. You can also use your other skills while in Lycan form, including OoB, and can sprint while in your Lycan form, just like a Swordsman. You'll need some SP pots with you to keep the form up, since it constantly drains your SP. Also, you'll look really badass while in this form (which is of course the most important part). If you use Hengestone, then quickly go into Lycan form, your health will double, and you will gain +30% damage to all of your attacks (including magic skills) and +200 crit rate. Your stat increases will be maintained even after the Hengestone disappears, so there's no need to max it, but you will need to put 2 points into it if you want JUST enough time to cast Lycanthropy, Carnivory, 2 Zaibases, and Cure with an additional skill level added to them before Hengestone disappears (1 point is only enough to cast all but one of those), though you will have to be very quick to cast them in order to pull it off; even a small delay in timing will cause you to miss the last spell cast.
You can put 3 points total into Hengestone instead of 2 if you want a little extra breathing room for mistakes. If you want to put 3 points into it, you can either take a point out of Telepath if you don't want it, or another point out of Lycanthropy, since more points in that only increases the duration, but not the strength, and 2 points is the minimum you need in Lycanthropy for a constant uptime anyways (though it's nice to not have to recast Lycanthropy as often).
Skill Rotation
At rank 8, against bosses, WITHOUT Lycanthropy, I first cast Zalciai, rush into the boss, then cast Chortasmata, -> Sterea -> cast OoB and begin auto attacking -> Carnivory -> Zaibas x2 -> Cure -> ABE -> Possession -> cast OoB again and auto attack until other skills are off CD, and casting Safety Zone whenever Sterea runs out. I would use Hengestone here, but sometimes that takes up too much setup time to cast, and it could cause you to lose out on DPS more than you would have if you didn't cast it.
WITH Lycanthropy: Zalciai -> rush in -> Chortasmata -> Sterea -> OoB -> Hengestone -> Lycanthropy -> Carnivory -> Zaibas x2 -> Cure *Hengestone breaks* -> begin spamming Lycan attacks, starting with my strongest ones, and then spamming Scratch until other skills are off CD.
You wont have enough time to use Possession at all while in Lycan form, because spamming Scratch seems to be a much better use of your time. I'm also trying to see if I can fit ABE anywhere into my Lycan rotation, but casting ABE and recasting OoB takes a lot of time; time you could be using to spam Scratch.
I'm not claiming this rotation to be the best, end-all-be-all rotation for this build, but it certainly is effective. If you can find an even better rotation than this, however, please let me know in the comments :)
Attribute Priority
Attributes are listed in order from the first attribute you should get, to the last one you should get. Generally, you should get utility attributes first, and enhancement attributes later. Of course, if you can afford the enhancement attributes now, you can choose to increase them as you level, if you want.
Cleric 1
1st- Safety Zone: Increased Range
. This is probably the most important attribute for all Clerics. It should be the FIRST attribute you get. You absolutely MUST get this in order for anyone else in your party to be able to share Safety Zone with you. Even when soloing, this is helpful as it will allow you to move around a little bit in your magic circle without leaving it.
2nd- Heal: Remove Damage
. While you may want to use Heal tiles as a source of damage while soloing, which is fine, you will definitely want to have this turned on in dungeon parties, especially if you are the only Cleric. This attribute can be turned on and off at any time, so do not worry about not being able to use them as a damage source if you buy this attribute.
3rd- Heal: Creating Extra
. This gives you a small chance to automatically heal yourself by a small amount when you cast Heal (this used to increase Heal's CD, but it now no longer does this).
Optional- Blunt Mastery: Stun
. This attribute can help you out before you get Sadhu, when you're just swinging your mace around to auto attack while your skills are on cooldown. However, this will become a pointless attribute once you do get Sadhu, as you will no longer be using your mace to attack anymore. If you would like to spend money on this attribute to help yourself out in ranks 1-3 though, that is fine.
Avoid-
Weapon Swap
. - Although getting this attribute is very cheap and isn't actually detrimental to you in any way, there is really absolutely no reason to get this. There is only going to be 1 main weapon and 1 dagger that you will be using all throughout your progression, and those weapon swap boxes will just sit there, forever unused and collecting dust. This attribute is really only for people who need to constantly swap between different weapons to use certain skills.
Krivis 1
1st- Zalciai: Magic Amplification
. This is very important to you, as it will actually make Zalciai useful to yourself. Without this, Zalciai wont have any use for yourself until rank 8, when you get Lycanthropy form.
2nd- Zalciai: Duration
. Even though the Zalciai duration already overlaps the CD even without this, it's nice to have since you wont always be able to recast this and walk into it once you're a Sadhu, since most of the time you'll be rooted in place during combat and wont have time to stop what you're doing and walk into this.
3rd- Aukuras: Fire Property Resistance
. Who doesn't want some nice Fire resistance?
4th- Krivis: Fire Property Resistance
. This gives you a passive 5 Fire resistance and -3 Darkness resistance per level, meaning that it's always on, even if you don't have Aukuras out. This can of course help you when fighting fire property mobs, but you should remember to turn this off when fighting Dark property mobs. However, if you have gear with Darkness Property Resistance, such as the Shade Gear, it shouldn't hurt to keep this on.
5th- Aukuras: Enhance
. Wont make too big of an impact on your HP recovery, but having more can't hurt. If you can afford this, go for it.
Krivis 2
1st- Zaibas: Splash
. This is a very important skill, as it's one of the main reasons why Krivis 2 is so great. This turns your Zaibas from a single-target skill into an AoE skill, zapping any and all who touch it.
2nd- Daino: Duration
. This is quite important to have. Your party will love having a longer Daino duration.
3rd- Divine Stigma: Duration
. This is also pretty important to have. Longer Stigma means more time with increased INT and STR for you and your party.
4th- Zalciai: Enhance
. Crit attack wont be useful to yourself until you're rank 8, but this can help out your other party members in dungeons if they are crit-focused.
Sadhu 1
1st- Out of Body: Evasion
. Even though this attribute got nerfed from +50% to +50, you still need this, as evasion is very important for making up for the 0 physical defense that Sadhus have. Every bit of evasion helps.
2nd- Astral Body Explosion: Knockdown
. This turns ABE into a CC. It can help yourself out while soloing if you get surrounded, and can also be a very helpful utility in PvP. However, in dungeon parties, people may not like like it if you knock their targets around, so be sure to turn this off when doing dungeons.
3rd- Out of Body Basic Attack: Enemy Defense Weakened
. Although this wont necessarily help yourself out until you're rank 8, it can help out your party members in dungeons if you have any physical attackers with you.
Sadhu 2
1st- Prakriti: HP Recovery
. This is very helpful to you, as you will sometimes use Prakriti to escape harm, and this allows you to recover any of that harm that you just took. It is definitely worth the increased CD that it gives.
2nd- Vashita Siddhi: Confusion
. This turns the purely PvP skill into a PvE CC skill. Confusion can make mobs wander around aimlessly, providing a nice CC to help your party out if they're getting overwhelmed. Confusion has no effect in PvP.
Druid 1
1st- Carnivory: Duration Time
. This will help Carnivory's duration match Chortasmata's duration.
Druid 2
1st- Chortasmata: Duration
. Maxing this will allow Chortasmata to ALWAYS be up and ready whenever either Carnivory or Sterea is ready. You'll never have to wait on Chortasmata to cast Carnivory or Sterea again.
2nd-
Any of the Druid Transformation Specialties. These are quite expensive to level, so just choose the ones that you transform into the most. For example, if you mostly just Transform into small insects, you only need to level Druid: Small-type Specialty and Druid: Insect-type Specialty.
Here is the list of Transformation specialties:
Druid: Animal-type Specialty
Druid: Insect-type Specialty
Druid: Plant-type Specialty
Druid: Large-type Specialty
Druid: Medium-type Specialty
Druid: Small-type Specialty
Druid 3
1st- Telepath: Crowd Control
. If you can afford this incredibly expensive attribute, it can be very useful in PvP. Neither you nor your party members can attack anything that is under Telepath's control, as it essentially becomes an ally, but you can use it to interrupt somebody who is casting something, or, if you can manage to catch the entire opposing team in this, it can allow your whole team to set up and get ready to annihilate the entire opposite team as soon as it wears off. This skill basically becomes an 11 second countdown to the other team's doom, if you can manage to catch them all at once.
Enhancement Attributes
For endgame, after you've maxed all other utility attributes, this is the order of enhancement attributes, based in order from the skills that provide the most DPS, to the least, as you should focus on maxing you highest DPS skills first.
1st- Carnivory: Enhance
2nd- Possession: Enhance
3rd- Basic Body Attack: Enhance
- Even though this doesn't do as much damage as your other skills, it's your most frequently used one, so upgrading this would be highly beneficial.
4th- Astral Body Explosion: Enhance
5th- Zaibas: Enhance
6th- Cure: Enhance
Optional- Heal: Enhance
. You can get this if you want to help yourself out a bit while soloing, but you really shouldn't be using your Heal tiles for damage in parties, especially if you're the only Cleric. You wont be using your Heal tiles for damage very much, if at all, so it may not be worth the money.
Equipment
This section is a work in progress and is subject to change, and I will continue to update it frequently as I receive new info and gain more experience in late-game progression.
Armor
Full leather.
Leather armor pieces usually tend to have evasion and DEX bonuses on them, and the Leather Mastery attribute will give you crit attack and crit rate bonuses so long as you're wearing a full leather set (armor mastery is now a passive attribute. You no longer need to buy it. Simply check your class 1 attributes to see the benefits of each armor type). Evasion helps with survivability, as going OoB reduces your physical defense to 0, yet boosts your evasion by 50 (with the OoB evasion attribute), and you should be OoB as often as possible to maximize your DPS.
Leather Mastery no longer gives evasion bonuses like it used to, and boots also no longer give evasion as a main stat, although a very high evasion stat may no longer be needed, as mob accuracy and damage has also been reduced. You will, of course, still need a decent enough amount of evasion to avoid most physical hits, as they still do noticeably more damage to you than magic attacks. However, the main attraction to leather now is not evasion bonuses, but crit rate and crit attack. Before the patch, I rarely ever landed a crit with my Lycan. Now I crit about 40-50% of the time. Instead of giving you an additional base damage and doubling your stats, Lycanthropy now gives you a 10% increase in damage and +100 crit rate (+30% damage and +200 crit rate when combined with Hengestone). It looks like crit rate and crit attack will be a new main focus for leather armor, along with evasion.
Here's a
link
to the list of Hunting Grounds gear, including the 280-320 HGs.
Some of these armors are out of place and not appropriate for their levels. I will fix this soon. In fact, cloth might be a better option for the earlier levels before you get Lycanthropy.
Level 15 - 75
Cafrisun Armor Set
Level 75 - 120
Chest:
Shade Dancer
Pants:
Razna Leather Pants
Gloves:
Soul Chaser Gloves
Boots:
Soul Chaser Boots
or
Vine Boots
Level 120 - 170
Chest:
Eastern Leather Armor
Pants:
Eastern Leather Pants
Gloves:
Eastern Leather Gloves
Boots:
Soul Chaser Boots
or
Vine Boots
Level 170 - 220
Chest:
Eastern Leather Armor
Pants:
Eastern Leather Pants
Gloves:
Eastern Leather Gloves
Boots:
Eaglestar Leather Boots
Level 220 - 315
Chest:
Keyarc Leather Armor
Pants:
Eastern Leather Pants
Gloves:
Virtov Leather Gloves
Boots:
Virtov Leather Boots
Level 315+
Chest:
Vienti Kaulas Leather Armor
Pants:
Vienti Kaulas Leather Pants
Gloves:
Virtov Leather Gloves
or
Kaulas Leather Gloves
Boots:
Virtov Leather Boots
or
Kaulas Leather Boots
Level 330
Chest:
Solmiki Leather Armor
Pants:
Solmiki Leather Pants
Gloves:
Solmiki Leather Gloves
Boots:
Solmiki Leather Boots
With 3 Solmiki leather pieces, you will get a set bonus of +25 to all stats, and with 4 pieces, you will get +225 crit attack and +100 accuracy for your Lyncanthropy form.
Link to Solmiki leather set bonuses
Other Options-
You could wear cloth for more magic DPS, but the amount of INT and magic amp bonuses on cloth pieces is miniscule compared to the much larger amount of crit rate and crit attack you would get from using full leather with Leather Mastery, since you'll get more DPS out of your Lycan crits than from your magic attacks. If you're worried about magic defense, you can still get plenty of that from bracelets, necklaces, and the rest of your leather armor, since magic defense is now a main stat in all armor types. Besides, magic wont hurt you nearly as much as a good, solid punch to the gut will. It's best to be more worried about making up for the 0 defense that you have with some evasion that you can get from leather armor.
Plate is not an option as a Sadhu since physical defense is completely irrelevant. Just focus on evasion and magic defense for survivability.
Necklace
Agny Necklace
(lvl 120+) or
Max Petamion
(lvl 170+).
Agny Necklace will be your best option for DPS, as the Fire Property Attack will give you an additional 120 damage to your OoB attacks. It also provides a nice +30 SP recovery.
If you prefer defense, I would recommend Max Petamion for the magic defense and CON.
[NOTE: A lightning-based version of Agny Necklace may be released sometime in the future, as it has been mentioned by GMs before, and there is a
Test Lightning Necklace
in the database, making Zaibas even more potent for this build! Max Petamion could still be a viable defensive alternative, however, as stat points have a much greater impact than before with the new update.]
Bracelets
Level 75 - 170 -
Zachariel Bangle
x2
Level 170 - 330 -
Wizard Bracelet
x2
Level 330 -
Solmiki Bracelet
x2
Although
Archmage Bangle
is the best bracelet for straight magic DPS, Wizard Bracelet will actually be a better alternative for this build once you get Lycanthropy form, because the -112 SP Recovery you get from 2 Archmage Bangles is quite taxing on your Lycanthropy form duration, so Wizard Bracelet would be a safer alternative. If, however, you would still like to use Archmage Bangle, then that is fine, though it will be harder to keep up your Lycanthropy form during longer boss fights.
If you already have the full Solmiki Leather Armor set, then the Solmiki Bracelets will offer a very nice 6 piece set bonus, which gives +48 Evasion for survivability and +72 Crit Rate for your Lycanthropy form. Each of the bracelets themselves however also offer a very nice 22 CON and 122 Magic Defense, as well as 91 Holy and Dark property resistance, totaling to 44 CON, 244 Magic Defense, and 182 Holy and Dark property resistance with both of them equipped, though the 49 Physical Defense that they offer however is of course irrelevant to this build.
Main hand
Level 15 - 40
Deathweaver Club
Level 40 - 75
Five Hammer
(assuming you don't put any gems in it, that is. I had 5 lvl 6 red gems in mine, and it lasted me until I got Catacombs Club)
Level 75 - 120
Sketis Rod
Level 120 - 170
Baule Sphere
Level 170 - 270
Catacombs Club
Level 270 - 315
Migantis Mace
or
Purine Migantis Mace
Level 315+
Vienarazis Mace
Level 330 -
Solmiki Mace
In the early game, maces can provide you with a means of attacking while Zaibas is on CD, but once you get Sadhu, you should use whatever will provide you with the most magic attack until you get Lycanthropy form (where physical attack becomes more relevant), since you should no longer be auto attacking unless it's with your soul. At lvl 170, the Catacombs Club is a very excellent weapon with high magic attack for your skills and high physical attack for Lycanthropy damage, and will last you until near endgame. Once you hit 315, however, Vienarazis Mace will be the best weapon for Sadruid until you can get a Solmiki Mace. It offers lots of physical attack and INT for your Lycan form and magic attack for your other skills.
Cheaper Alternatives-
315+
Pevordimas Mace
or
Purine Pevordimas Mace
.
If you don't want to spend a Practonium on a Vienarazis Mace, Pevordimas Mace can be a strong alternative (though ofc not as strong as Viena). Purine Pevordimas is ofc better than the regular alternative, but much, much more rare and unlikely to find.
Replicas can be an okay replacement if they're better than what you currently have equipped, but I would not recommend that you settle on them long-term.
Offhand
Level 75 - 170
Arde Dagger
Level 170 - 220
Small Crystaras
Level 220 - 315
Pajoritas Dagger
Level 315+
Lionhead Dagger
Get Arde Dagger as soon as you possibly can. You can either farm the level 80 dungeon for it or buy it from the market. Elemental Property daggers are great for Sadhus (and many other classes), as they will add more damage to your OoB attacks. Unlike elemental property bonuses from any other piece of equipment, such as necklaces and armor, daggers actually MULTIPLY their damage with OoB by x3, rather than being divided and added up again, so they add a very nice amount of damage to the OoB attacks. The Small Crystaras (dropped from Zinutekas in the lvl 170 Hunting Grounds at Dina Bee Farm) is the next best offhand. It offers 177 Psychokinesis Property Attack, and the +11 DEX that it gives will increase your evasion. Pajoritas Dagger (dropped from Rubblems in the lvl 240 Hunting Grounds at Woods of The Linked Bridges) is a straight upgrade from that, with 235 Psychokinesis Property Attack and +15 DEX for both evasion and Lycan crit chance. Finally, the Lionhead Dagger (recipe dropped from the Red Lavenzard Cube in the lvl 290 dungeon) will be the best offhand for you currently, with 321 Fire Property Attack, +12 DEX for evasion and Lycan crit chance, and an additional +8 Evasion to top it off.
Cards
[This is all completely outdated thanks to the new card mechanics that came with the recent patch. Please disregard this. I would say which cards to use instead, but I haven't looked much into the way the new card system works. Just use whatever will increase your magic attack (preferably not Chapparition though, as there are cards that now increase your INT more than they used to).]
Chapparition
x8
Eight Chapparition cards will give you an 80% increase in magic DPS for 4 seconds after using any SP potion, which will not only boost your magic skills, but also your Lycan damage as well, since it scales off of both your magic and physical attack stats.
I used to have Chapparition x5 and
Glass Mole
x3 listed here due to the fact that KToS had a 5-of-a-kind card effect limit and the possibility that that might be implemented here in IToS eventually, but it seems now that that will not be happening. There is no evidence or any mentions whatsoever that this limit will be brought to IToS, so it looks like it's safe to use an 8-of-a-kind card stack.
Other options-
Ellaganos
If you want some extra DEX for crit attack, you could replace some of the Chapparitions with Ellaganos. 1 Ellaganos card will give you 1 point of DEX for each card level (up to a max of +10 DEX per card). Keep in mind that 1 point of DEX gives 4 crit attack, and for every 10 points of DEX that you have, you get an additional 10 crit attack on top of that.
Gems
Chest: Red gems for HP
Pants: Red gems for HP
Gloves: Blue gems for SP recovery (recommended) or Hallowventor Magician gem for Carnivory skill
Boots: Blue gems for magic defense
Main hand: Red gems or Blue gems for max attack/magic attack (luck vs. consistency)
Offhand: Red gems for physical attack, Green gems for crit rate, or Yellow gems for crit attack (since Lycanthropy + Hengestone now gives +200 crit rate, crits occur MUCH more often than they have before with this build, so focusing on crit may now be more effective for Lycan DPS than focusing on increasing white damage)
Headgear
Magic attack > Physical attack > Elemental property attack > Magic amp. > Magic defense > everything else.
Magic attack is the best since it will benefit both your magic kills and Lycanthropy damage, since it scales from both your magic attack and physical attack. Physical attack of course will only benefit Lycan damage. Elemental property attack can benefit both, but since the maximum elemental attack bonus that you can get from enchants is lower than the maximum physical attack that you can get, physical attack is usually better. So really, which one is better is dependent on how much of it you get. Magic amp isn't as good as the others because, unlike magic attack, amplification only raises the MAXIMUM magic damage that you can do, not both the minimum AND maximum, like magic attack does, so you could do more damage, or you might not do much more damage at all. Magic attack is just much more reliable. Evasion would be listed here, but the maximum amount of evasion you can get from enchanting is not very much (only 14), as opposed to magic defense, which can give you up to 110. The same story is for crit rate. 14 is not a lot compared to a constant +135 physical attack.
Here's a list of all possible enchantments, their minimum and maximum ranges, and frequency.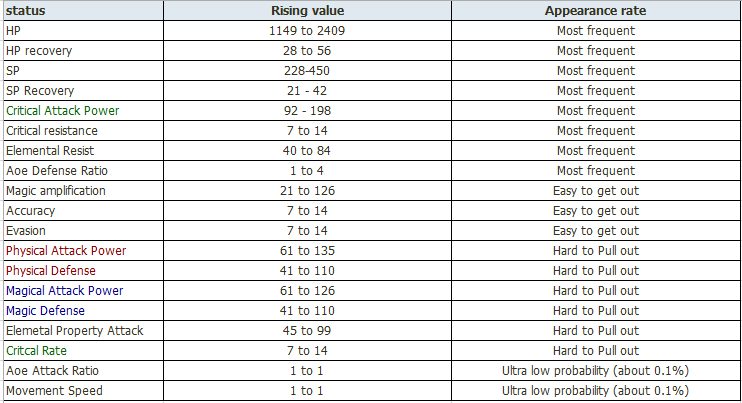 Other Sadruid Build Options
Sheo's Cure-All Remedy (Cleric 3)
- This build is a bit more solo-friendly and supporty. You have many more defensive options for your body and can handle surviving hordes of mobs more easily this way, but at the cost of DPS and versatility. Not generally recommended, but it's here if you like Safety Zone and Fade a lot.
Sheo's Statue Carver (Cleric 2 Diev 1)
- More support through better SP management, but still less DPS than Krivis 2. Generally a better support option than Cleric 3, in my opinion.
Other Builds by Sheogaraph
Sheo's Facetank
- Want to be the tank of the team? Go for glory and be the shield hero that everyone needs!
And lastly, let me know if you have any questions or constructive criticisms below, and please don't forget to leave this build a like if you enjoyed it so it can be seen by more people :)
Rank 1

Cleric

HealVideo

Heal: Enhance
Type: Passive
* Increases the damage and heal factor of [Heal] by 0.5% per attribute level
* +10% added bonus at maximum level

Cleric 1st Circle required

Heal: Creating Extra
Type: Active
* Adds a 2% chance per attribute level of being automatically healed when using [Heal]
* Increases SP consumption by 20%

Cleric 1st Circle required

Heal: Remove Damage
Type: Active
* [Heal] will not inflict damage nor react to enemies
* Increases SP consumption by 10%

Cleric 1st Circle required

Heal: Open Sanctuary
Type: Active
* Extends the effects of [Heal] to neutral characters.

Cleric 1st Circle required

Heal: Exclude Summons
Type: Active
* Keeps [Heal] effects from applying to summons.

Cleric 1st Circle required

Heal: Linger
Type: Active
* Applies a buff that continuously restores the HP of allies healed with Heal or Mass Heal
* The buff lasts 10 sec and restores HP in a value equal to [attribute level x 5]% of your Healing stat
* Increases SP consumption by 30%

Cleric 3rd Circle required

Heal

[Magic] - [Holy]

Creates a magic circle in front of you, healing allies or damaging enemies. Does not affect airborne enemies. Amount of HP recovered depends on the target's maximum HP. Recovery increases with the casting character's INT and SPR.

Level 5:

Attack 228%

Heal factor 228%

Magic circle duration 40 sec

No. of heal circles 5

SP:

38

Type:

Magic / Buff

Cooldown:

22s

Element:

CureVideo

Cure: Enhance
Type: Passive
* Increases the damage dealt on an enemy with [Cure] by 0.5% per attribute level
* +10% added damage at maximum level

Cleric 1st Circle required

Cure: Damage Interval
Type: Active
* Decreases the interval of [Cure]'s magic circle by 0.2 seconds
* Increases SP consumption by 20%

Cleric 2nd Circle required

Cure

[Magic] - [Holy]

Creates a magic circle that removes a Lv1 status ailment from allies or inflicts damage to enemies. Does not affect airborne enemies.

Level 5:

0.4 second attack 103%

No. of Hits: 18

Magic Circle Duration: 10 seconds

SP:

42

Type:

Magic / Buff

Cooldown:

27s

Element:

Safety ZoneVideo

Safety Zone: Increased Range
Type: Active
* Increases range applied by [Safety Zone] to 15
* Increases SP consumption by 80%

Cleric 1st Circle required

Safety Zone: Block Count
Type: Active
* Increases block count of [Safety Zone] by 1 per attribute level
* Increases SP consumption by 10%

Cleric 2nd Circle required

Safety Zone

Creates a magic circle that blocks incoming attacks.

Level 5:

Blocks: 10 times

Magic Circle Duration: 20 seconds

SP:

47

Type:

Magic / Buff

Cooldown:

48s

Element:

Rank 2

Krivis

AukurasVideo

Aukuras: Enhance
Type: Passive
* Increases the heal factor of [Aukuras] by 0.5% per attribute level
* +10% added bonus at maximum level

Krivis 1st Circle required

Aukuras: Fire Property Resistance
Type: Active
* Increases Fire property resistance by 14 per attribute level when [Aukuras] is active
* Increases SP consumption by 10%

Krivis 1st Circle required

Aukuras: Goddess of Fire
Type: Active
* Ally magic attacks within range of [Aukuras] deal additional Fire property damage
* Decreases torch duration by 10 seconds
* Eliminates the amount of HP recovered
* Increases SP consumption by 20%
* Decreases cooldown by 30 seconds

Krivis 2nd Circle required

Aukuras

Summons a holy torch, constantly restoring the HP of nearby allies while reducing the accuracy of nearby enemies. While nearby the torch, the duration of harmful effects will constantly be reduced.

Level 3:

Heal factor 38%

Torch duration 30 sec

Add. Fire property damage per magic attack 0

SP:

46

Type:

Magic / Buff

Cooldown:

60s

Element:

ZalciaiVideo

Zalciai: Duration
Type: Active
* Increases duration of [Zalciai] by 3 seconds per attribute level
* Increases SP consumption by 20%

Krivis 1st Circle required

Zalciai: Magic Amplification
Type: Active
Increases magic amplification by 12 per attribute level when [Zalciai] is active
* Increases SP consumption by 10%

Krivis 1st Circle required

Zalciai: Enhance
Type: Passive
* Increases critical attack of [Zalciai] by 1% per attribute level

Lv. 3 Zalciai required

Zalciai

Creates a magic circle that increases the critical abilities of allies or decreases the critical abilities of enemies.

Level 2:

Ally's Critical Attack: +24

Enemy's Critical Resistance: -20

SP:

34

Type:

Magic / Buff

Cooldown:

20s

Element:

ZaibasVideo

Zaibas: Enhance
Type: Passive
* Increases the damage dealt on an enemy with [Zaibas] by 0.5% per attribute level
* +10% added damage at maximum level

Krivis 1st Circle required

Zaibas: Splash
Type: Active
* [Zaibas] deals damage to multiple enemies
* Max. targets: 7
* Total count is maintained
* Increases SP consumption by 30%

Krivis 2nd Circle required

Zaibas

[Magic] - [Lightning]

Creates a magic circle that calls down bolts of lightning on an enemy using the God of Thunder's power.

Level 5:

0.3 second attack 82%

No. of Hits: 9

Magic Circle Duration: 30 seconds

SP:

66

Type:

Magic / Attack

Cooldown:

20s

Element:

Rank 3

Krivis

Rank 4

Sadhu

Out of BodyVideo

Body Basic Attack: Enhance
Type: Passive
* Increases the damage dealt on an enemy with [Body Bask Attack] by 0.5% per attribute level
* +10% added damage at maximum level

Sadhu 1st Circle required

Out of Body: Evasion
Type: Active
* Increases the body's evasion by 10 per attribute level when [Out of Body] is active

Sadhu 1st Circle required

Out of Body Basic Attack: Enemy Defense Weakened
Type: Active
* Decreases the enemy's physical defense by 10% with a chance of 10% per attribute level when using a basic attack during Out of Body
* Unable to turn ON/OFF during Out of Body

Sadhu 1st Circle required

Out of Body

Move your spirit out of the body. The spirit can only move near the body.

Level 5:
Spirit's Moving Range: 190
SP: 0

Type: Magic / Attack
Cooldown: 0s


PrakritiVideo

Prakriti: HP Recovery
Type: Active
* Recovers HP equal to 5% of maximum HP per attribute level when using [Prakriti]
* Increases SP consumption by 30%

Sadhu 2nd Circle required

Prakriti

Move body to the spirit to unite again. Can only be used when spirit is out of body.

Level 1:
Movement Time 0.5 ~ 1 second
SP: 24

Type: Magic / Attack
Cooldown: 9s


Astral Body ExplosionVideo

Astral Body Explosion: Enhance
Type: Passive
* Increases the damage dealt on an enemy with [Astral Body Explosion] by 0.5% per attribute level
* +10% added damage at maximum level

Sadhu 1st Circle required

Astral Body Explosion: Knockdown
Type: Active
* Enemies hit with [Astral Body Explosion] are knocked down
* Increases SP consumption by 10%

Sadhu 1st Circle required

Astral Body Explosion

[Magic] - [Psychokinesis]

Inflict damage on nearby enemies by separating your soul from your body to cause an explosion. Attacked enemies receive a percentage of Psychokinesis magic damage for 5 seconds.

Level 5:

Attack: 1038%

SP:

103

Type:

Magic / Attack

Cooldown:

30s

Element:

Rank 5

Sadhu

Rank 6

Druid

CarnivoryVideo

Carnivory: Enhance
Type: Passive
* Increases the damage dealt on an enemy with [Carnivory] by 0.5% per attribute level
* +10% added damage at maximum level

Druid 1st Circle required

Carnivory: Duration Time
Type: Active
* Increases duration time of [Carnivory] by 1 second per attribute level
* Increases SP consumption by 10%

Druid 1st Circle required

Carnivory

[Magic]

Grass near the targeted area attacks an enemy. It casts in the place of [Chortasmata] first if it exists, otherwise it casts on you.

Level 5:

Attack: 271% x 25

Maximum targets: 8

Duration: 10 seconds

SP:

110

Type:

Magic / Attack

Cooldown:

20s

ChortasmataVideo

Chortasmata: Duration
Type: Active
* Increases duration of [Chortasmata] by 1 second per attribute level
* Increases SP consumption by 10%

Need the 2nd circle of Druid

Chortasmata: Enhance
Type: Passive
* Increases the damage dealt on an enemy with [Chortasmata] by 0.5% per attribute level
* +10% added damage at maximum level

Druid 1st Circle required

Chortasmata

[Magic] - [Poison]

Grass temporarily grows on the targeted area. Monsters within the targeted area become Plant-type monsters. Allies who step on the area receive the Floral Scent buff and have their HP restored. Enemies on the area receive the Rash debuff and continuous damage.

Level 5:

Attack 206%

Floral Scent recovery 720

Duration 15 sec

SP:

126

Type:

Magic / Attack

Cooldown:

20s

Element:

TelepathVideo

Telepath: Crowd Control
Type: Active
* Enemies near the initial target of [Telepath] also get the same effect corresponding to attribute level
* Increases SP consumption by 10%

Need the 3rd circle of Druid

Telepath

Penetrate into the mind of an enemy in front of you to control it.

Level 1:
Duration: 11 seconds
SP: 66

Type: Magic / Attack
Cooldown: 60s


Rank 7

Druid

Rank 8

Druid